Superb
Roboplate ANPR

CCTV Range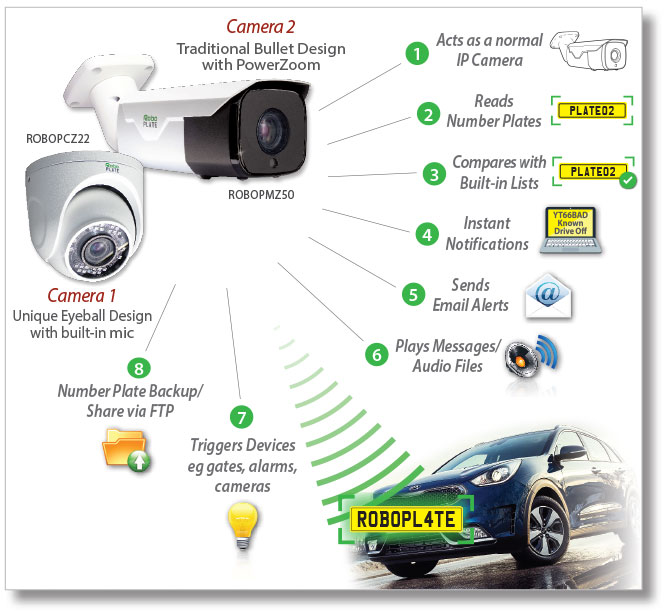 Automatic Number Plate Recognition also known as ANPR or ALPR is often thought of as technology commonly used by traffic police or parking management companies but the new Roboplate line of ANPR cameras and optional software make it affordable to any property owner even in homes.
Roboplate ANPR CCTV cameras capture vehicle number plates, compare against a white/black list and trigger a low voltage relay to open gates, bollards, doors, activate sounders and more!
They are standalone IP CCTV cameras that don't need a DVR or NVR to work. They'll capture number plates from the front or rear of a vehicle and can even capture partial plates. They are easy to setup, use and control using Internet Explorer and can store numberplate data on a built in SD card or by FTP to the cloud as back up or to share.
Roboplate ANPR CCTV Cameras & Software
Brought to you by System Q Ltd - a Great British company with over 25 years of history in the CCTV industry. Established 1994.
What RoboPlate ANPR Can Do?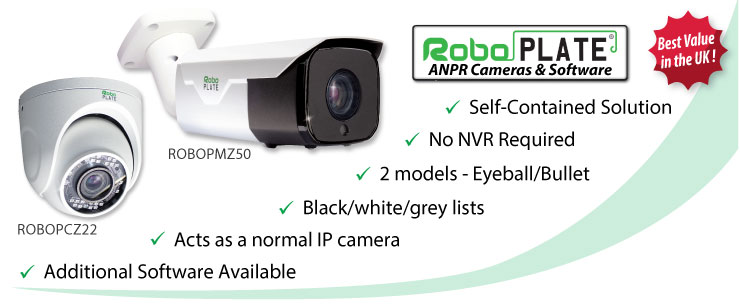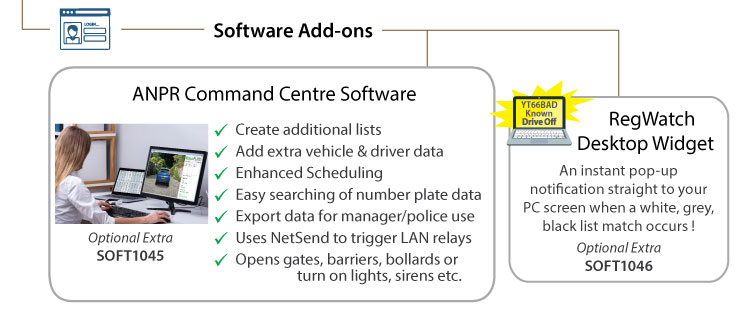 ---
Examples of Applications for our ANPR Systems
Ideal for Petrol Station Forecourts
Garages with petrol pumps continually run the risk of drivers filling up and driving off without paying. This might happen once but with RoboPlate ANPR you can help prevent it happening again by alerting the kiosk attendant that a "Known drive off" has just pulled up.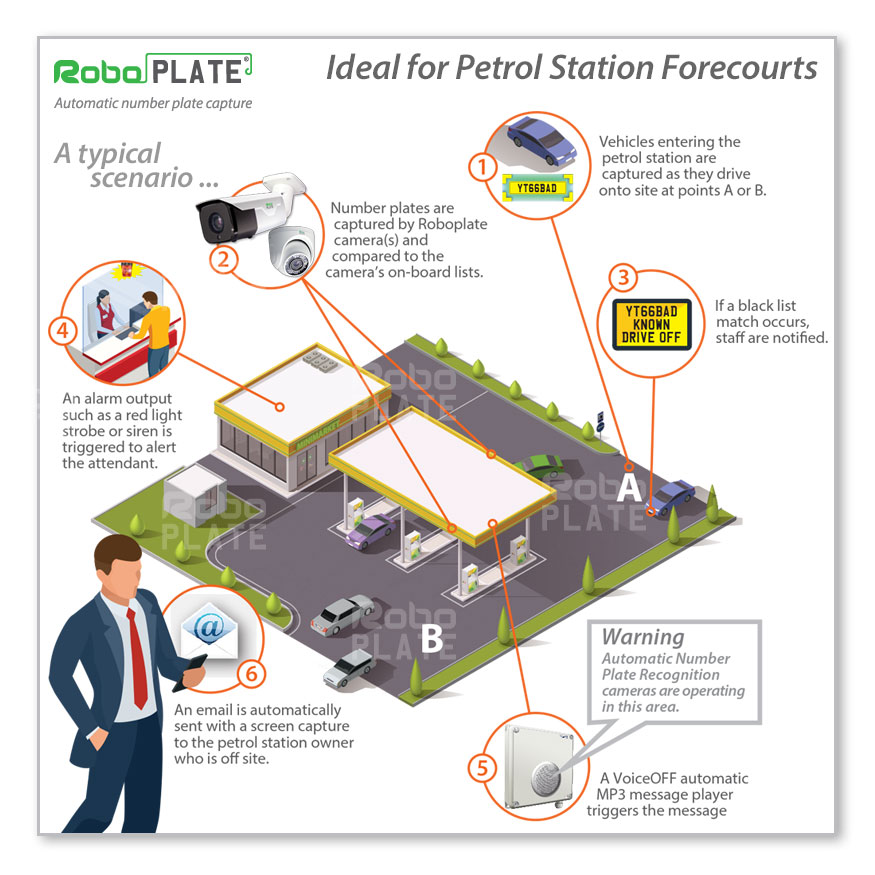 Caravan Parks
Caravan Site owners can monitor all vehicle comings and goings using RoboPlate ANPR cameras.
They can greet new arrivals as well as keeping their guests secure from unwanted visitors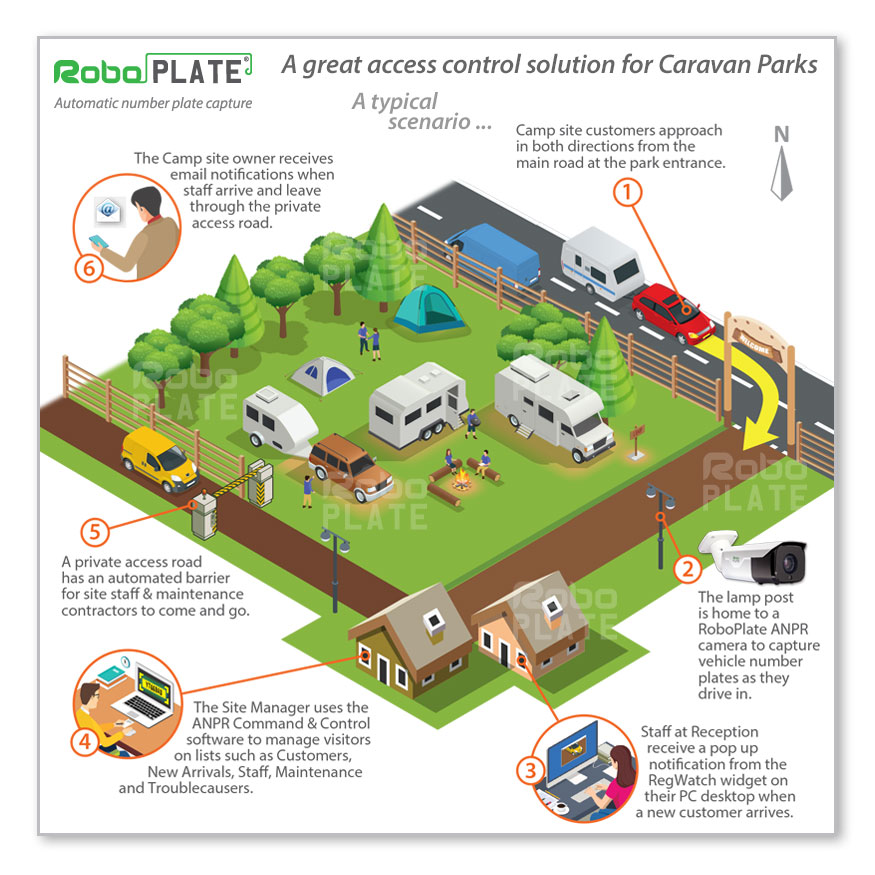 Care Homes, Nurseries & Residential Homes

An ideal for solution for businesses caring for the vulnerable making it easy to monitor guests arriving in vehicles. Staff can add family and friends or approved visitors lists to their white list and be alerted upon their arrival. More importantly they can be notified when unknown vehicles are loitering in the area.

Farms, Estates and Houses in remote locations

RoboPlate ANPR provides a great log of any vehicle visiting, making a delivery or driving through a private property. The easy to upload white and black lists make it easy to identify a number plate and allocate it to either list. The grey list means you can save the details for a later date, especially if suspicious behaviour is detected.

Golf, Tennis & Other Sports & Health Clubs

RoboPlate ANPR cameras can also be used to personally welcome your guests. Members would undoubtedly be impressed by the hospitality staff at their local club welcoming them by name as they walk through the door - just by ANPR matching their number plate as their car enters the car park.

Customer Only Parking

Solicitors, accountants, doctors, dentists and other professionals can protect their busy town centre parking spaces using RoboPlate ANPR cameras. Using the low-cost RegWatch widget, a receptionist can be alerted on their PC desktop that an unknown driver has entered their premium parking spots and go out to check the vehicle credentials. Customers and staff can all be added to the white list to save time in the future.

Hotels & Spas

Ensure client-only parking by reserving spaces for your customers. Instead of employing a gatekeeper or parking attendant, a gate or barrier can be linked to the reception desk restricting access to known guests or sending a message that a VIP has arrived. Imagine how impressed your customers would be when you greet them by name following a white list notification!

Construction Sites

Save employee's time and employer's money by restricting access to construction vehicles only, or increase safety by playing an audio message warning visitors of site vehicles in the area. Cost effective security plus health & safety providing you peace of mind, thanks to RoboPlate ANPR.
---
"Ideal for capturing number plates on gate ways."
ROBOPCZ22 Roboplate ANPR CCTV Camera - Eyeball
"Ideal for number plate recognition in parking areas."
ROBOPMZ50 Roboplate ANPR CCTV Camera - Eyeball
"Alerts users that a vehicle number plate has been recognised."
SOFT1046 RegWatch Pop-Up Software Widget
"Triggers alarms and actions (even over a LAN)"
SOFT1045 ANPR Command Centre Software